Newsletter - 09/18/2017

Hello Triathletes!

It may be late in the season but we've got a very full calendar taking us through the rest of September and October, plus a few things that will help set you up nicely for 2018.

First, a quick GRAND PRIX California update:












The

2017 GRAND PRIX California

is a competitive series of 25 races in the LA, San Francisco, San Diego and Orange County areas with over 8,000 athletes participating. To qualify for series prizes athletes must finish at least 3 races. Whether you race for pride or prizes the GRAND PRIX California lets you see how you stack up against the competition. Prizes for the top 3 men & women in 12 age groups will be given on

October 28, 2017

including $50 Performance Bike gift cards, Rudy Project Sunglasses & XTERRA Wetsuits Bags.

You may already be a winner!

Over 400 athletes have completed at least 3 series races, making them elgibile for season-ending awards, and that's before standings are updated to include our most recent race, Pacific Coast Triathlon on 9/10! Please be sure to check the standings and confirm everything's accurate.

The final two races in the 2017 Grand Prix California are both on October 15th: The Legends Triathlon (San Dimas) and Life Time Tri (San Diego). If you've already completed two races, you've got one more chance (since you can't be in two places at once) to finsih your third and become awards-eligible. Or, if you've already raced 3 or more, you can use all of that late season fitness to post a fast time and climb the leaderboard! Series award winners will be announced and handed out at Trick or Tri on October 28th.

You will want to join the GRAND PRIX California Facebook group for all of the latest updates including race and event photos (always free for you to download, tag, and share!), information about price moves, and more.
---
Finishing Strong!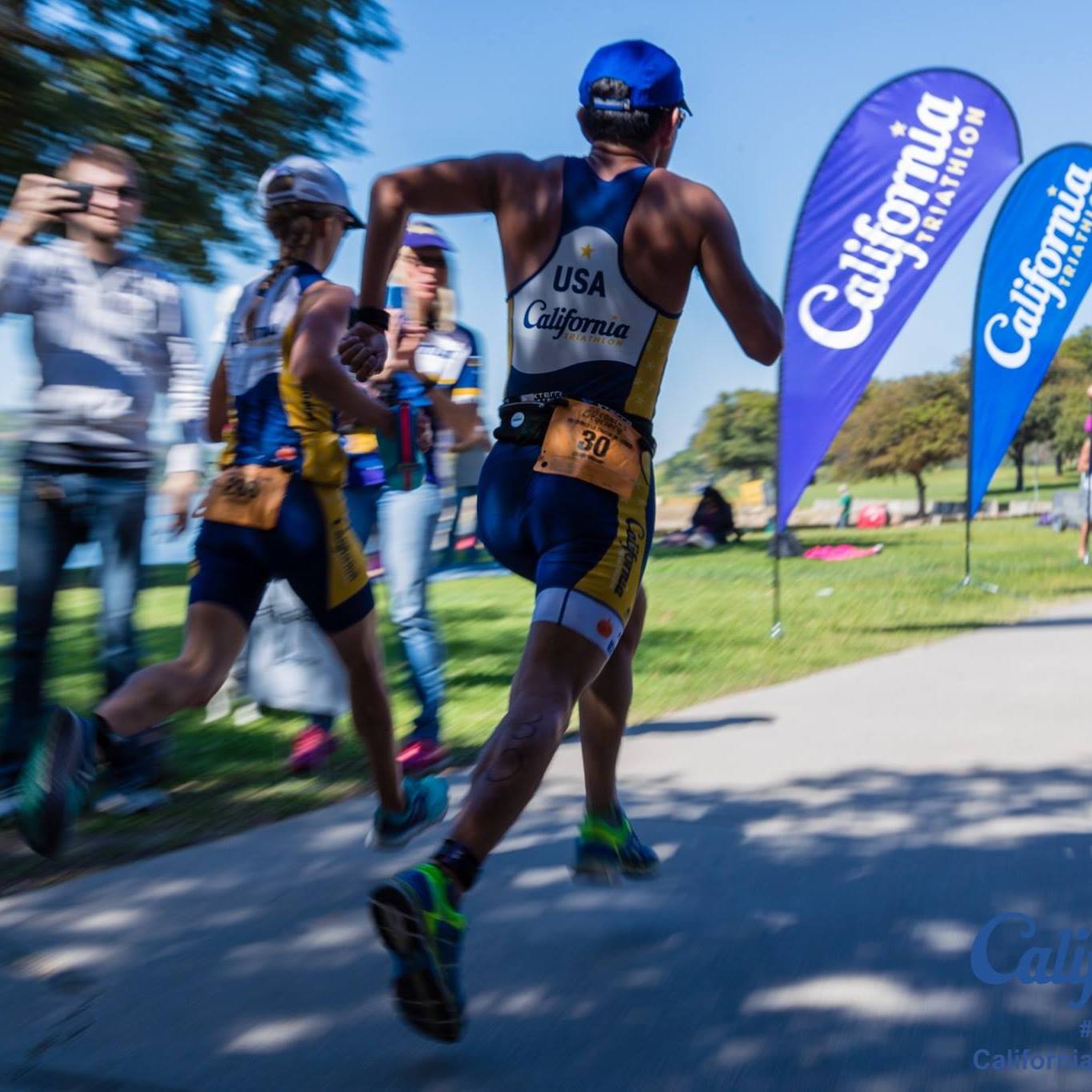 September & October are jam-packed with activity. To help you keep track of it all, I'm providing a chronological list with highlights and key dates.

Pro Tip: California Triathlon's founder, President, and Chief Thank You Officer Thom Richmond is heading out from his home back east for a California visit leading up to Trick or Tri. You may just catch him at many of these events!

September 24th - La Jolla Cove 10 Mile Swim Relay - Swim a mile or two in the beautiful Pacific near La Jolla Cove. We have several relay teams organized and a few spots still left to fill. Please contact Caitlin if you'd like to join one of our teams and get in on the fun!

September 30th - Santa Barbara Epic Ride - 88 miles of spectacular scenery and moderate climbing on a route from Santa Clarita to Santa Barbara, featuring stunning mountain and coastline views.

September 30th - Last Day to Beat the Final Price Increase for Trick or Tri . If you haven't yet registered for Trick or Tri (Oct 28th), do it before 10/1 or you'll pay more.

October 7th - Angels & Demons 2.0 Epic Ride - An 80 mile cruise from Anaheim to Solana Beach, following the coast and passing through Camp Pendleton. This ride is so popular that we're offering it a second time this year!

October 8th - Rock N Roll San Jose - Cal Tri volunteer cyclists will be on hand to lead out the elites. There are still a few spots left, and you can earn a Cal Tri kit credit.
Want to run the half marathon? You'll pay $109.99 plus fees if you register today, or you can contact Megan for a $60 entry. Act fast!
October 15th - The Legends Triathlon - Cal Tri athletes will once again show up in force at Bonelli Park in San Dimas for one of the final races in our 2017 GRAND PRIX California. Race Olympic or Express (Sprint) distance.

October 15th - Life Time Tri San Diego - This race, with Sprint & SuperSprint options, is held at South Shores Park in Mission Bay. Register with code "CALTRI" and save $10 off your entry. Along with Legends on the same day, this is the final race in our 2017 GRAND PRIX California.

October 21st - Trick Or Tri Skills Camp - Join Cal Tri Founder and USAT Coach Thom Richmond for a skills camp at the site of 2017 Trick or Tri in Irwindale. You will walk away a better triathlete. Your $25 registration includes a full day of instruction plus a jacket & SWAG bag. Only 6 spots left!

October 23rd - Cal Tri Annual Women's Dinner - We are planning a special evening in Pasadena to bring together and celebrate the Ladies of Cal Tri. We're proud of the fact that our membership is over 50% women, defying industry trends.

October 28th - Trick or Tri
California Triathlon's team race, now in its 3rd year, will take place at the Santa Fe Dam recreational area in Irwindale, CA. Race options include the HALF (new this year), Olympic, and Sprint triathlons, as well as 5K & 10K runs. It all happens on a closed course with a serene lake swim, which is perfect for beginning triathletes as well as experienced triathletes looking to PR on a flat & fast course.
We will also be giving out the series awards for our 2017 GRAND PRIX California and kicking off our 2018 Series.

October 29th - Rock N Roll Los Angeles
Our team of volunteer lead cyclists is full, but you can still run this race through the streets of Downtown LA. Want to run the half marathon?
You'll pay $99.99 plus fees if you register today, or you can contact
Megan
for a $60 entry. Act fast!
---
Your 2018 Triathlon Season - Early & Often
When it comes to selcting your races and updating your gear, we can help you get organized, plan ahead, and save some money in the process.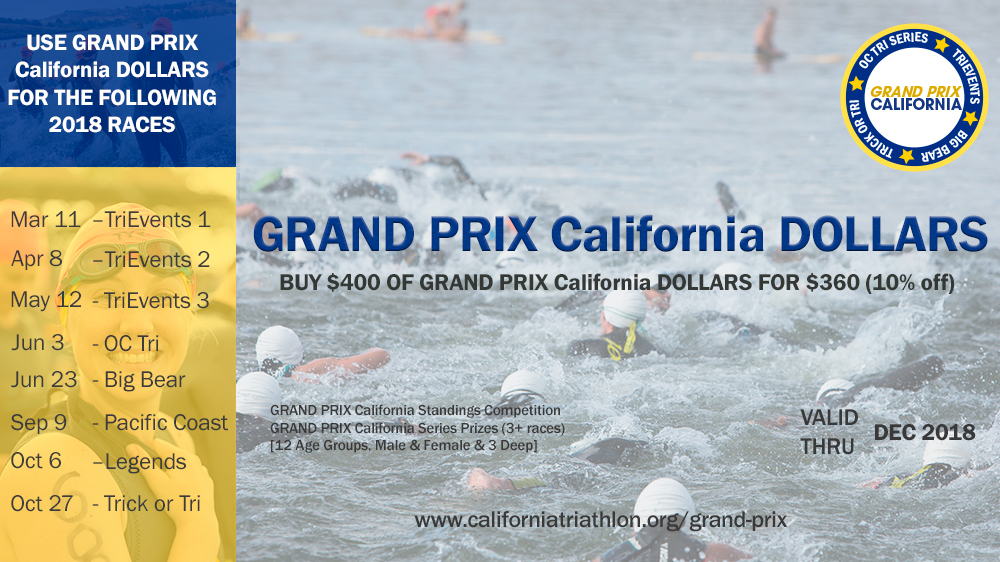 GRAND PRIX California Dollars
You can buy $400 of GRAND PRIX California Dollars for $360. That's a 10% discount.

Use those dollars to register for any of the following 2018 Races:


- Mar 11 – TriEvents 1




- Apr 8 – TriEvents 2




- May 12 - TriEvents 3




- Jun 3 - OC Tri




- Jun 23 - Big Bear




- Sep 9 - Pacific Coast




- Oct 6 – Legends




- Oct 27 - Trick or Tri



Since you will pay only one processing charge (on the purchase of the GRAND PRIX California Dollars, not on each separate race registration), it works out to an average savings of 17%. Choose your races and register early to get the best pricing and maximize the value of your GRAND PRIX California Dollars.
Last Cal Tri Kit Order of the Year - Deadline November 19th
California Triathlon kits are manufactured by Voler in California, and feature the classic California blue and yellow design. When you wear our kit, you are guaranteed to get plenty of cheers and high fives! At featured races, we'll have our photographers out on the course looking for you, and we share those photos for free after the event.


We don't take advantage of our members by marking up prices, so you can get yourself the basic kit (triathlon top and shorts) for less than $80. You can also order cycling jerseys, bib shorts, running singlets, thermal jackets, arm warmers, and more. Plan now for colder weather during offseason training.
These are the most popular items:
Tri Race Tops starting at: $30.36

Tri Shorts starting at: $40.26

Cycling Jerseys starting at: $38.94

FS Running Singlet starting at: $23.76
Click here and order by November 19th. Items will ship to you in December and should arrive prior to 12/25.

Special Offer for San Diego County Residents
We've made a limited number of kit store credits available to our members in San Diego County, thanks to the generous support of our sponsor Richard L. Duquette Law. Sign-up to race, ride or swim at any of the following events with California Triathlon:

Sep 24 - La Jolla Cove 10 Mile Swim Relay
Oct 7 - Epic Ride - Angels & Demons (Anaheim to Solana Beach)
Oct 15 - Life Time Tri San Diego
Oct 28 - Trick or Tri

Send your registration confirmation to SDPROMO@CaliforniaTriathlon.org
Receive a $50 credit to the Cal Tri store
Limited time offer. 1st come, 1st serve.
Limit 1 kit credit per customer
Resolve to get more involved in 2018
If you enjoy being part of California Triathlon and want to help us further our mission of making our sport more accessible, affordable, and sustainable, now is the time to raise your hand. There are several different ways you can join the leadership or get more involved.
Local: Work with your local chapter on training activities, social events, sponsorships and more. If you don't already have a chapter in your area, help us start one.

Statewide & National: Help us manage or coordinate the programs that broaden our influence and impact.
The pay is horrible (we're all volunteers) but the benefits are amazing. If you're interested, please drop a note to anthony@californiatriathlon.org. Thanks!
---