Newsletter - 01/08/2018

Hello California Triathletes!

I hope your new year is off to a great start! We have a full calendar of events and plenty of resources lined up to make 2018 your year to swim, bike, run, and accomplish your goals! If the holidays and colder temperatures have you feeling a little sluggish, take heart with visions of early season races, epic rides, and more!






GRAND PRIX California
The GRAND PRIX California is a competitive series of 25 races across the state, including events in the LA, San Francisco, San Diego, and Orange County areas. Athletes who finish a minimum of three races become eligible for series awards at the end of the season.

Be sure to check out our newly updated GRAND PRIX California website which includes links to all of the races, multi-race registration discounts, information about series scoring, and more!

UCLA IronBruin Sprint Triathlon (February 25th)
Test your early season fitness and race alongside athletes from the West Coast Collegiate Triathlon Conference. Registration will open very soon - stay tuned for details!

Tri Events LA Tri Series 1,2, & 3 (March 11th, April 8th. May 12th)
The world's longest running triathlon series features a lake swim and each race offers shorter Tri Express and longer Championship distances. Register now for all 3 spring races, or use GRAND PRIX California dollars to cover your season at a discount and save on processing fees!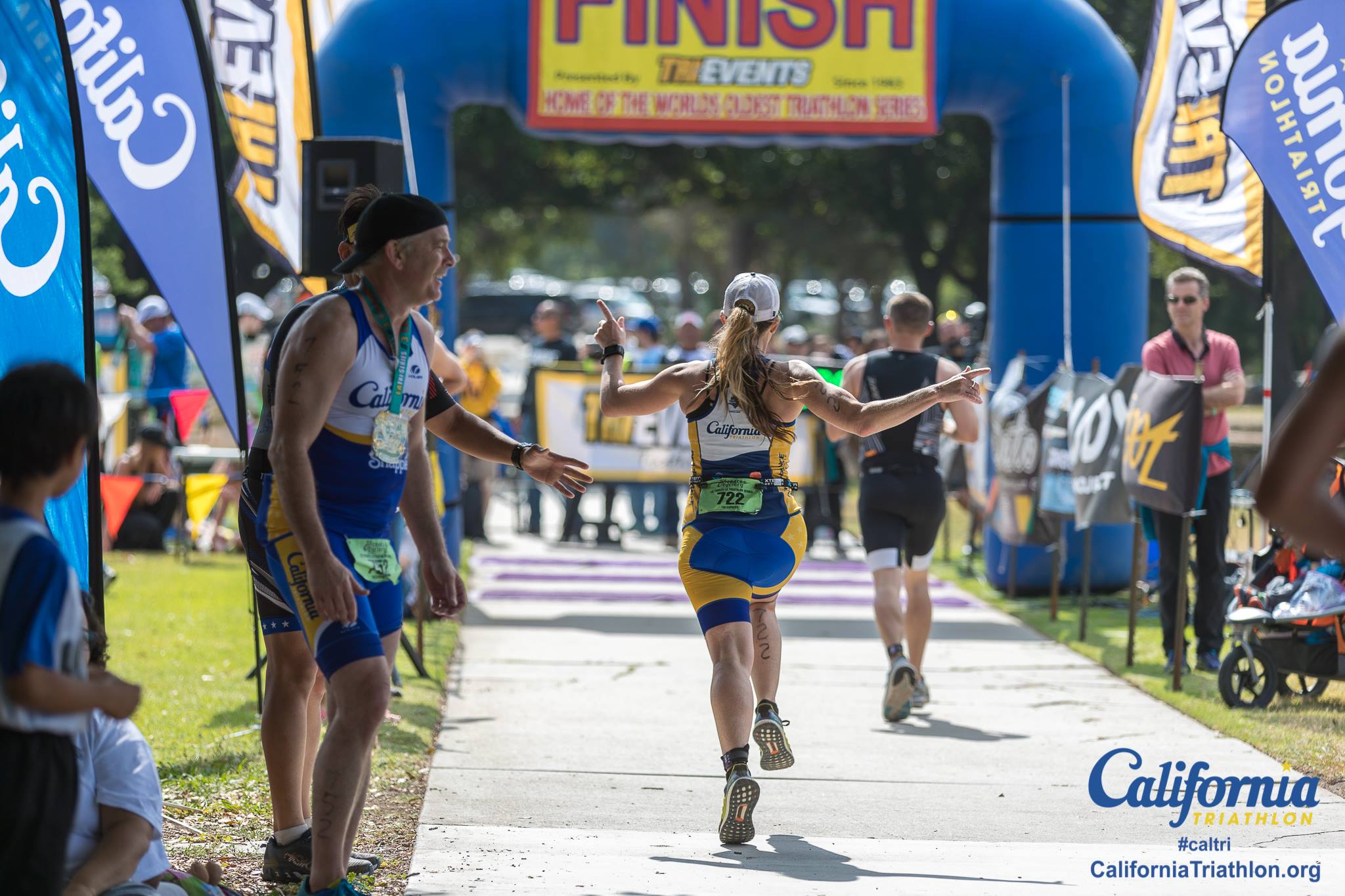 Who's Racing With Me?
Now you can see who among your friends, training partners, and rivals has already signed up to race at selected races in our series, including:

Tri Events 1 (March 11th)
Tri Events 2 (April 8th)
Tri Events 3 (May 12th)
OC Triathlon (June 2nd)
Big Bear Triathlon (June 23rd)


GRAND PRIX California on Facebook
If social media is your thing, you'll want to join our GRAND PRIX California Facebook group for all of the latest about races, epic rides, and other happenings across our state. This is also the place where we post photos that you can tag, download, and share. You may never pay for race photos again!
---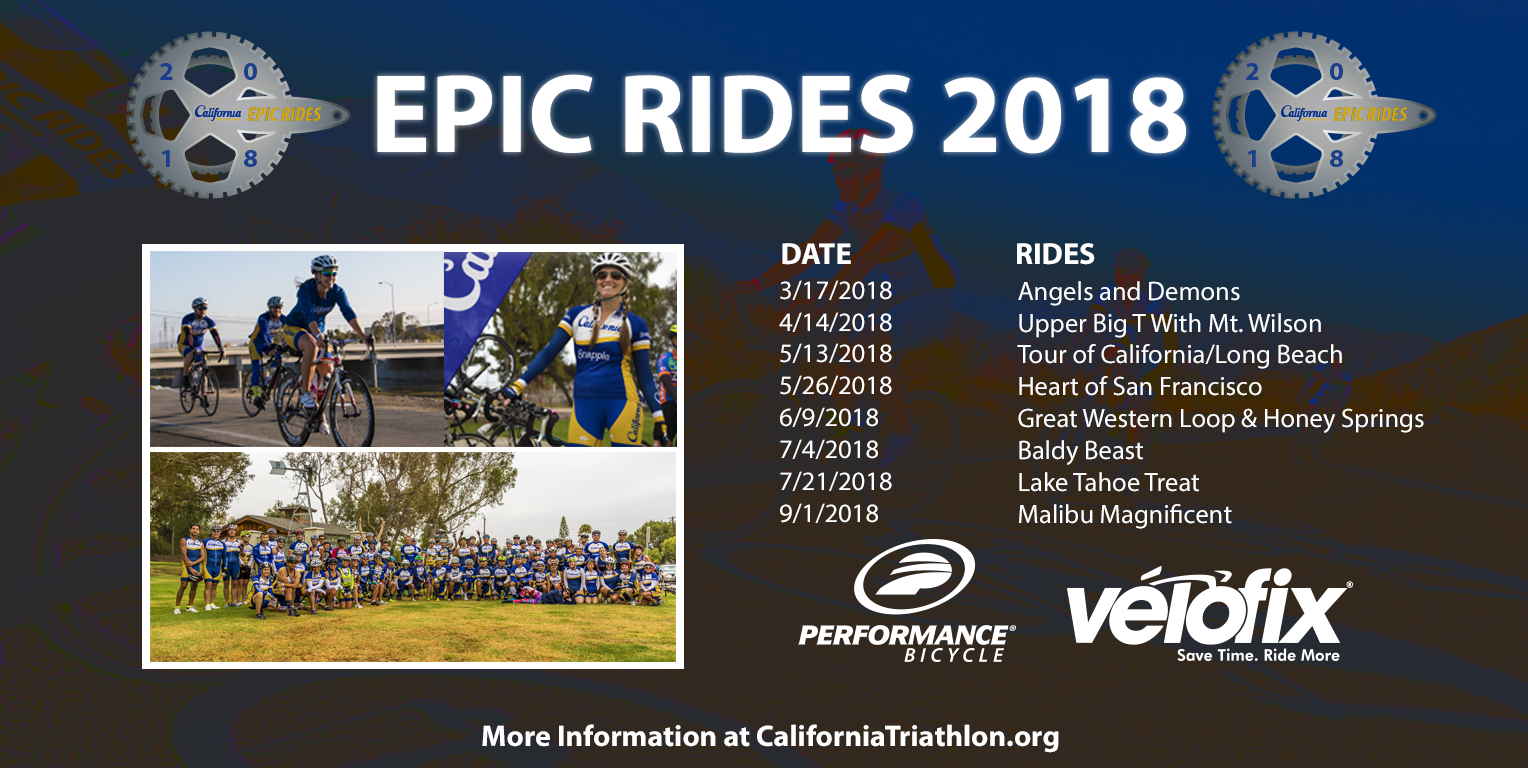 2018 EPIC RIDES Powered By Velofix & Performance Bicycle
California Triathlon's Epic Rides are fantastic group riding events along some of the most scenic & challenging routes that California has to offer. You will literally ascend to new heights as you conquer some of the most iconic climbs and follow many of the same routes that the pros ride, all with Cal Tri's organization and legendary support throughout. Year after year, Epic Rides remains one of our most popular programs.

Our 2018 Epic Rides take us all over the Golden State, from beautiful coastlines to rugged mountains and everything in between. Each of our original 7 California Chapters, including Sacramento and San Francisco, offered up a favorite route and will be hosting an Epic Ride. Our 2018 series features both classic routes and exciting new destinations that will challenge and reward you!

Angels & Demons - March 17th
We kick off our 2018 EPIC RIDES with a classic point to point ride from Anaheim to Solana Beach. This ride has been so popular that we offered it a second time last year. We are already well on our way to selling out for March, so don't delay! Click here to register.
THE RIDE. Angels & Demons is so named because it starts in the shadows of MLB Angel Stadium of Anaheim, "Angels", and ends at Solana Beach Pizza Port, "Demons", which serves as a great post-ride venue for pizza and 58 beer choices at last count. As Epic Rides go it is mild at 2800' of elevation and typically attracts a mix of experienced and beginner cyclists. The Amtrak Pacific Surfliner leaves Solana Beach at 3:50 pm for Anaheim with bikes returning via truck.
THE ROUTE. Angels and Demons covers 80 miles and is broken into 4 parts: The SART [Santa Anna River Trail] to the Balboa Island Ferry, OC Beach Cities, Camp Pendleton and Oceanside to Solana Beach.

Want to volunteer at an Epic Ride, then earn a year's worth of rides for free? Please contact howard@californiatriathlon.org who is also your resource for all Epic Ride questions.

---
First Cal Tri Kit Order for 2018 - Now Open!
Our team triathlon, running, and cycling gear is manufactured in California by Voler and features the classic California Triathlon blue & yellow design, which hasn't changed in over 7 years. Choose from a wide selection including tri tops and shorts, skinsuits, cycling jerseys, bib shorts, running singlets, thermal jackets, arm warmers, and more. We work with Voler to keep our prices low; for example, you can get a cycling jersey for less than $50, and a complete tri kit (top & shorts) for less than $80.

Our first order for 2018 is now open. Complete your order by Febrauary 4th and items will ship directly to your home or work by March 9th, ahead of spring races and to make sure you have your required jersey in time for our first Epic Ride of the year (Angels & Demons on 3/17/2018).

Click here to order.

Personalization is also available on selected skinsuits, jerseys, and shorts. Click here to order an item and add your name, nickname, motivational phrase, or other appropriate personalization. The same timeline applies - order by February 4th for arrival in early March.
---
Introducing California Triathlon – San Joaquin Valley!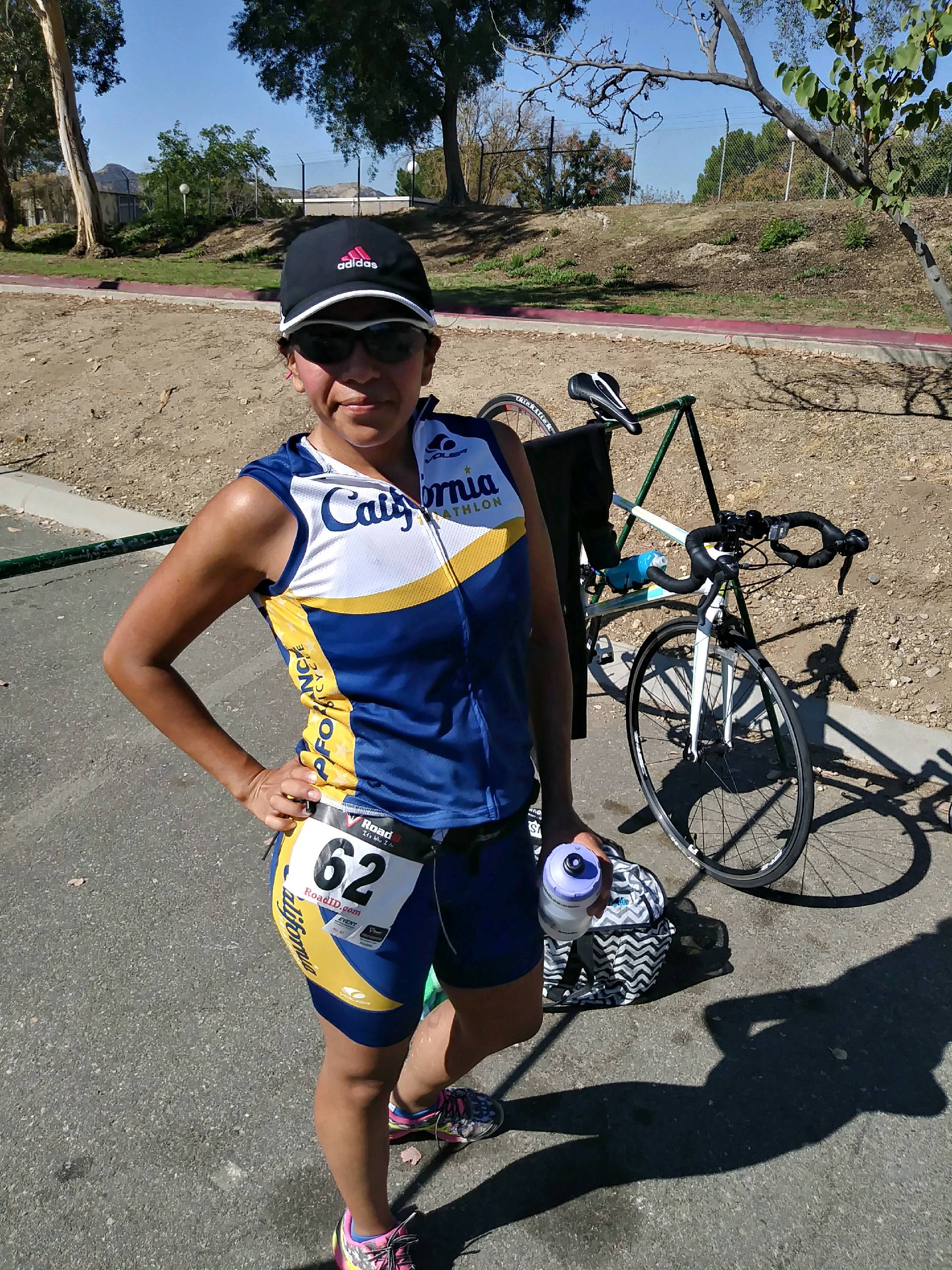 Our newest chapter, based out of Bakersfield, exists to promote group training and the triathlon habit across "the heart of California" - the area that lies south of the Sacramento–San Joaquin River Delta, including all of Kings County; a majority of Fresno, Merced, Stanislaus counties; segments of Madera and Tulare counties—and a majority of Kern County. Let's take advantage of the places across this great region where we can swim, bike, and run!
Cal Tri SJV will be led by Alejandra "Alex" Perez whose determination is matched only by her enthusiasm. Alex has a passion for sports and a background in international dance, bodybuilding, crossfit, kickboxing, running, swimming, cycling, yoga, and polga fitness. What she loves most about triathlon is the endurance in all three disciplines, requiring continuous and sequential effort to reach the finish line. Now she is eager to share her knowledge and experience with others, support our mission, and help grow the sport in her part of the Golden State.
Would you like to train with Cal Tri in the San Joaquin Valley? Do you have questions? Want to get involved? Please contact alex@californiatriathlon.org

---
Cal Tri Forum
Have a question? A training tip? A little tri-spiration to share? Get on the California Triathlon forum
There are nearly 300 unique conversation topics in our forum. If you've got a question, chances are someone else has it too. Leverage the knowledge and perspective from our 4000+ members and other site visitors, covering the gamut of experience from tri-curious aspiring beginners to seasoned veterans and elite athletes.
---

Thanks for reading!
Anthony Grey
Vice President, California Triathlon
anthony@californiatriathlon.org
A 501(c)(3) charitable nonprofit organization with a mission to make the sport of triathlon affordable, accessible & sustainable by providing the resources, coaching and support needed for athletes to accomplish their goals.
#CalTri
Rams fundraisers thank you & shoutout